ELK-960
The ELK-960 Delay Timer is designed to be an economical and flexible solution for any general-purpose timer application. The unit can be configured for use on 12 to 24V systems, with positive or negative trigger logic. Positive triggers can be as low as 4.5V. Setup is quick and easy with thumbwheel adjustment between 1 and 60 seconds. A quick jumper setting converts the time from seconds to minutes. The Timer can be configured to activate once for each trigger, or free-run as soon as power is applied. Relay can be configured to be normally on or normally off.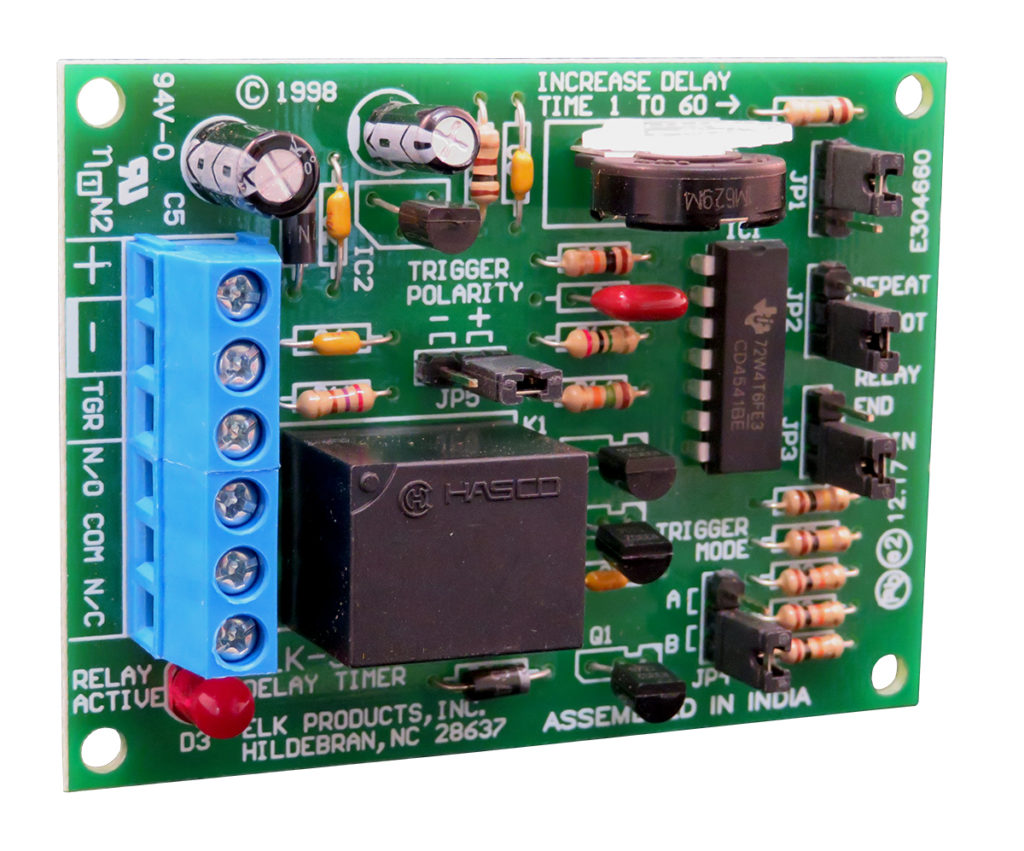 12 to 24 Volt DC Operation
Adjustable Time Delay
SPDT (Form "C") Relay
Low Current Input Trigger (<1ma)
Selectable Positive or Negative trigger
Selectable Initial Relay State: ON / OFF
Operating Modes: One-Shot or Repeat
LED Indication of Relay State
Lifetime Limited Warranty
Operating Voltage: 12 to 24 Volts DC.
Current Draw: 40 mA DC with relay on.
Time Settings: 1 to 60 Seconds or 1 to 60 Minutes.
Relay Contacts: Form "C", 7A @ 30VDC, 10 A @ 125VAC.
Size: 3" x 2.2" x 1" (Fits Standard. Snap Track).
Trigger Voltage: 4.5 - 24VDC.
ELK-960 Relay with Timer
2 pieces of Double Sided Tape
Instructions
Locate an ELK Authorized Distributor Near You!
For more infomation, call ELK at (800) 797-9355.