ELK-BLT
The ELK-BLT Battery Life Tester or .Mhos Meter. is a compact, easy to use service tool for testing 12 Volt rechargeable batteries. The BLT measures internal conductivity (Mhos), which is the best indicator of a battery's health and life expectancy. Mhos happens to be the inverse of Ohms (conductance as opposed to resistance). The BLT operates as follows: For each battery brand and size installed you should start by measuring and recording a .baseline. Mhos reading. Then, during any service call or inspection simply measure and record the current (most recent) Mhos reading. Always compare the current Mhos reading with the original reading.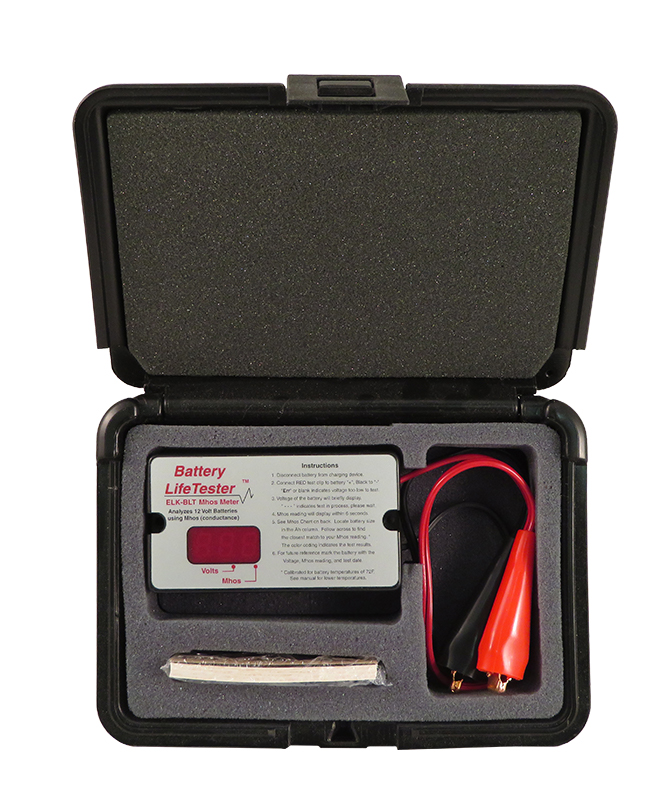 Compact, Low cost, and easy to use
Does not discharge or damage the battery
Analyzes 12 Volt Rechargeable Batteries
 Numeric LED display shows battery voltage, and Mhos reading
Warns if battery voltage is too low
Replaceable test leads
Includes Padded Carrying Case
Includes Self-Adhesive Test Data Labels
Lifetime Limited Warranty
Operating Voltage: 10V - 14 Volts D.C.
Current Draw: 1.1 Amps Max., 0.0016Ah for full test
Battery Leads: ~12 Inches
Enclosure Size: 4.4" W x 3" H x 1.15" D (111.8mm x 76.3mm x 29.2mm) w/o carrying case
Self-adhesive test data labels may be used for recording each inspection. When the current Mhos reading has reached at or around 71% of the original baseline then it is time to consider changing the battery. The BLT includes a reference chart on the back with numbers equating to Mhos readings for common security industry battery sizes.
The BLT receives its operating power from the battery under test and automatically warns when the battery voltage is too low for testing.
ELK-BLT Battery LifeTester™
Padded Carrying Case
25 Test Data Labels
Instructions
Locate an ELK Authorized Distributor Near You!
For more infomation, call ELK at (800) 797-9355.