M1 Data Bus Hub For Retrofit
ELK-M1DBHR
An "active" RS-485 data bus hub designed for jobs where an M1Gold or M1EZ8 Control is retrofitting an older panel that has multiple homerun 4 conductor keypad/data wires. It splits the main 485 data bus into 4 managed 485 branches. Each branch can have 2 parallel home run cables for a total of 8 home runs. The end of each cable is EOL terminated to insure proper operation and supervision.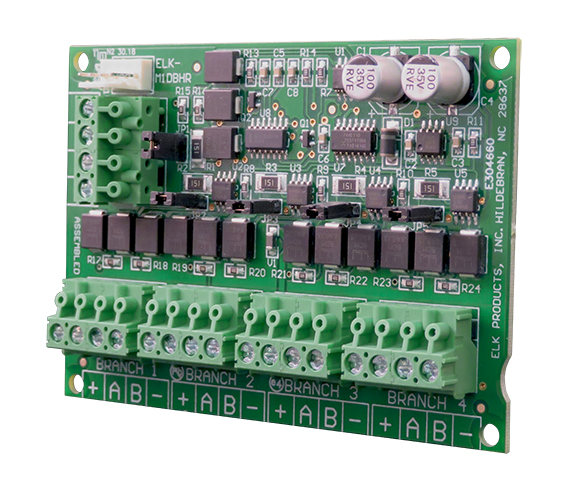 Splits The Controls' RS-485 Data Bus Output Into 4 Managed Branches
Each Managed Branch Can Have 2 Parallel Home Run Cables (Total Of 8 Home Runs)
EOL Termination Of Each Branch Insures Proper Operation And Supervision
Works With Std. 4 Conductor Home Run Wire
An Additional Unit May Be Connected In Parallel To The Control For Expanding Total Capacity
Includes Mounting Rails for ELK-SWB Boxes
Inputs: Elevator Screw Terminals, 4 Position
Output: Elevator Screw Terminals, 4 Position
Circuit Board Dimensions: 4.9" x 2.75"
ELK-M1DBHR Data Bus Hub
ELK-SWG Circuit Board Mounting Glides
Instructions
Locate an ELK Authorized Distributor Near You!
For more infomation, call ELK at (800) 797-9355.