ELK-M1RB
May be plugged directly into an M1G, M1EZ8, M1XOV, or M1XOVR to convert the voltage outputs into SPDT relays rated for 7A @ 30 VDC, 10A @ 125 VAC.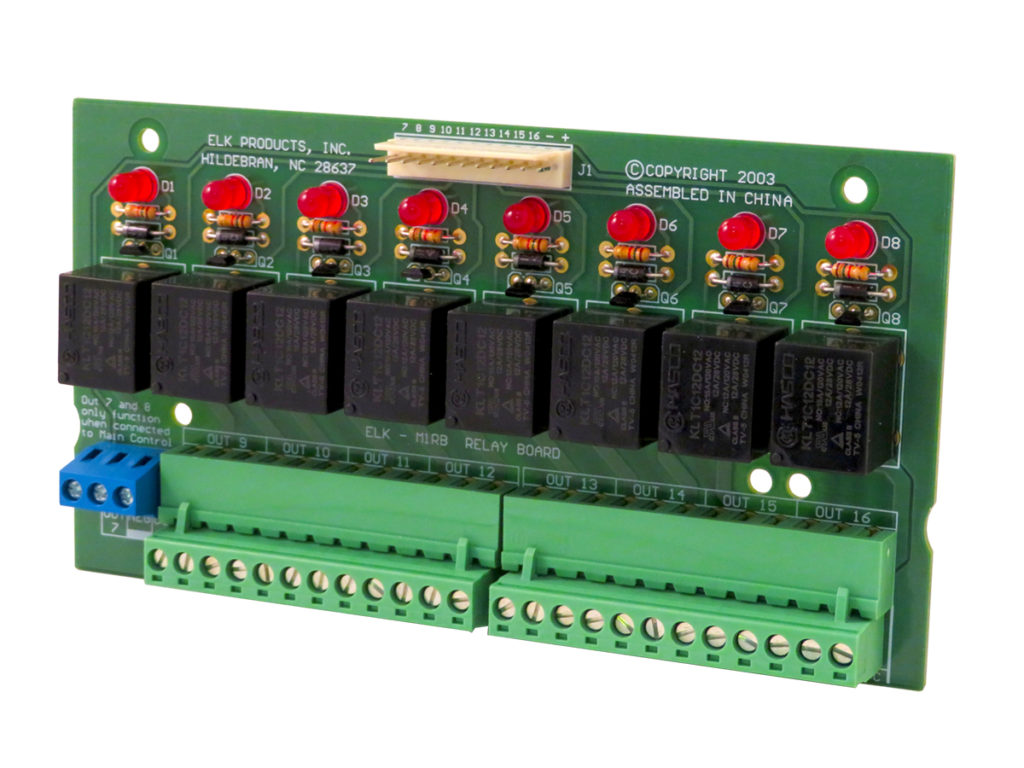 8 Form "C" Relays, SPDT Dry Contact
Heavy Duty Contact Rating
Low Current Draw.
Great For General Purpose Switching
Plug-in "Removable" Terminal Blocks
LED Status Indicators on all 8 Relays
Twelve (12) Conductor Plug-in Wire Harness
 Mounts in Enclosure using ELK-SWG Glides
Diode Protection Across Relay Coil.
Contact Ratings: 7 Amps @ 28 VDC, 10 Amps @ 125 VAC
Wire Harness Length: 24"
Operating Voltage: 12 Volts DC Nominal
Current Draw: 0 mA idle, 250 mA Max.
Size: 6" x 3.25" x .75" H
M1 Relay Board
4 pieces of Double Sided Tape
ELK-SWG Circuit Board Mounting Glides 2/pack
Relay Adapter, 12 Conductor Cable Assembly
Instructions
Locate an ELK Authorized Distributor Near You!
For more infomation, call ELK at (800) 797-9355.