Sealed Lead Acid Battery, 6 V 5Ah
ELK-0650
ELK Sealed Lead Acid Batteries are excellent for the following applications with regard to size, Amp hour rating, and proper terminal connections: battery backup (for Access Control Systems, Fire Alarm Systems, and Security Alarm Systems), emergency lights, lighted exit signs, and uninterruptible power supplies.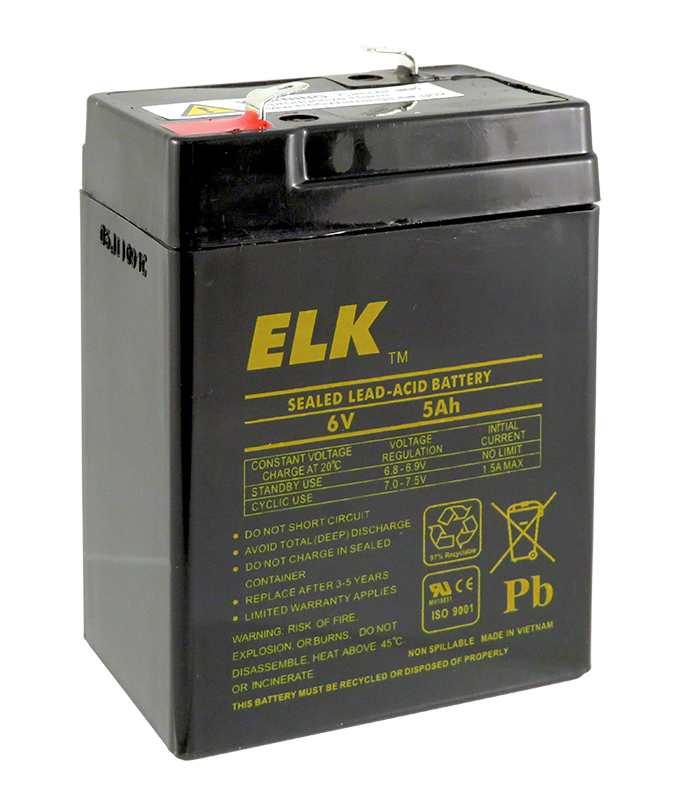 Rechargeable
All virgin materials for long life
More lead for greater Ah capacity
Size comparable to other manufacturer's lower Ah sizes
UL Recognized Component
2 Year Over-the Counter Warranty
Nominal Voltage: 6 Volts
Rated Capacity: 5 AH (20 hour rate)
Length: 2.76" (70mm)
Width: 1.85" (47mm)
Height: 3.94 (100mm)
Total Height w/ terminals: 4.18" (106mm)
Terminals: F1-Faston Tab No. 187
6 Volt, 5 Ah SLA Battery with F1 Faston Tab Connectors
Locate an ELK Authorized Distributor Near You!
For more infomation, call ELK at (800) 797-9355.